tfevents allows logging data from machine learning experiments to a file format that can be later consumed by TensorBoard in order to generate visualizations.
Installation
You can install tfevents from CRAN with:
You can install the development version of tfevents from GitHub with:
You need to have cmake on your path. See installation instructions in the cmake install webpage - or:
If you use brew on MacOS you can run:
brew install cmake
Or on linux install the cmake library, for example on Debian systems:
sudo apt install cmake



# install.packages("devtools")




devtools

::

install_github

(

"mlverse/tfevents"

)
Example
The main entrypoint in tfevents API is the log_event function. It can be used to log summaries like scalars, images, audio (Coming soon), histograms (Coming soon) and arbitrary tensors (soon) to a log directory, which we like to call logdir. You can later point TensorBoard to this logdir to visualize the results.
Summaries are always associated to a step in the TensorBoard API, and log_event automatically increases the step everytime it's called, unless you provide the step argument.
Let's start by logging some metrics:
By default this will create a logs directory in your working directory and write metrics to it - you can change the default logdir using context like with_logdir or globally with set_default_logdir().
Since we passed a nested list of metrics, log_event will create subdirectories under logs to write metrics for each group.
You can later point TensorBoard to that logdir using TensorBoard's command line interface or tensorflow's utility function tensorboard()
TensorBoard will display the results in a dashbboard, similar to one you can see in the screenshot below: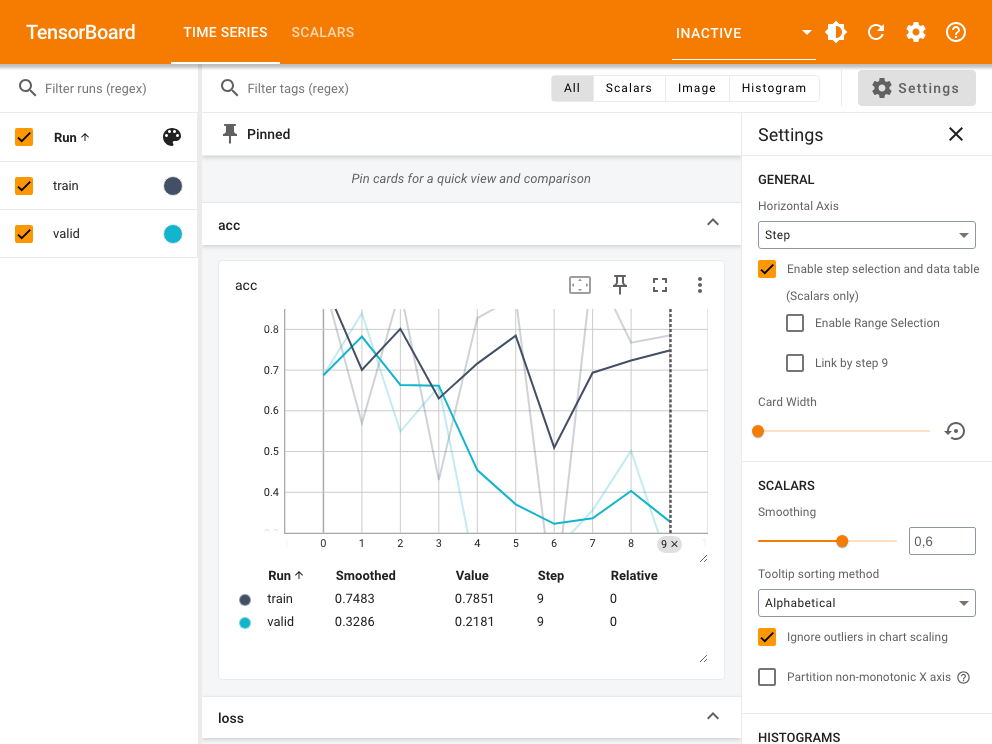 You can learn more in the tfevents website.